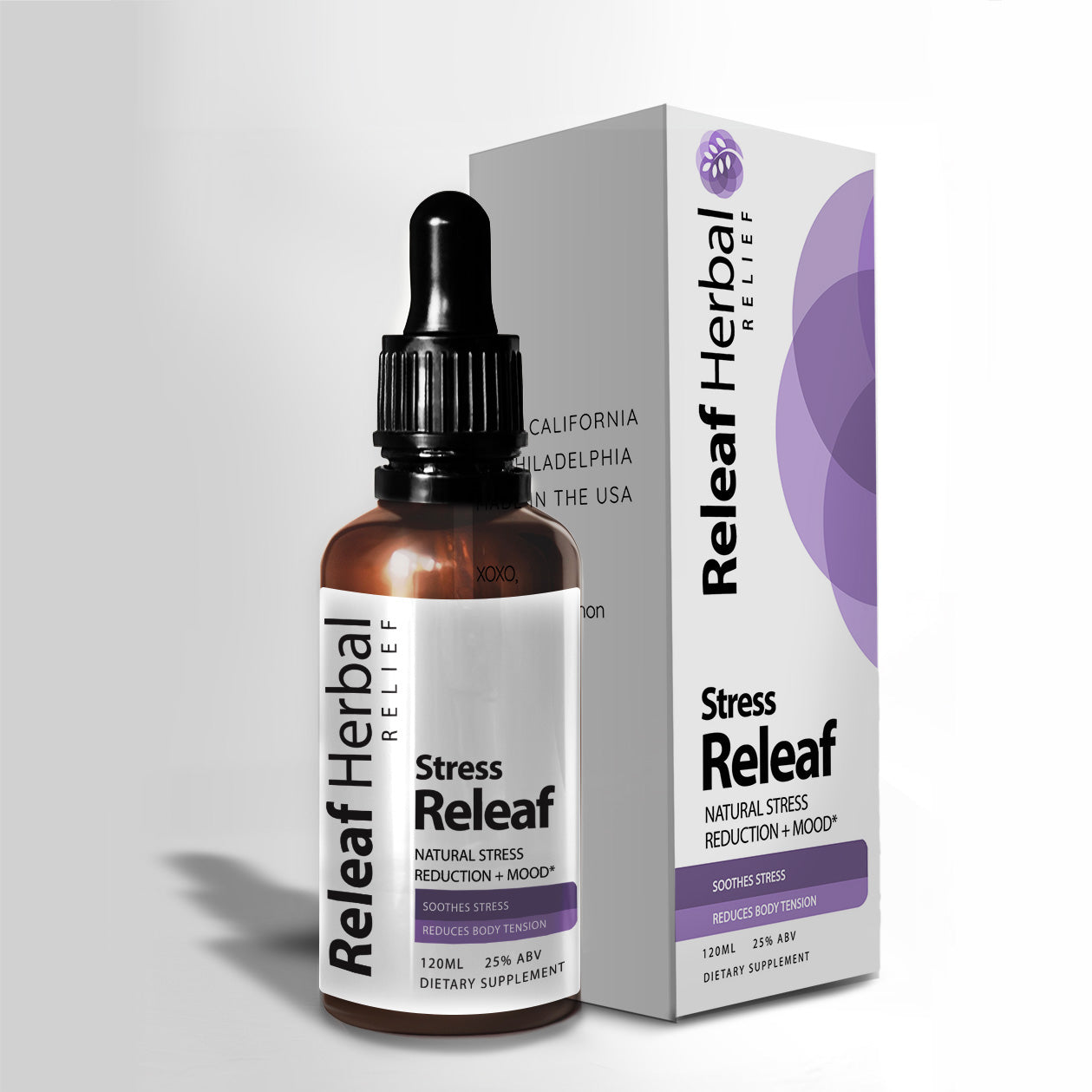 Description
Directions
Ingredients
Stressed out? Take a moment for yourself to relax. This herbal tincture can ease anxiety and transport you to your zen place. Releaf Herbal Relief ingredients, bupleurum root, peony root, licorice root, and gardenia fruit provide a sense of calm and ease. This remedy is known for its natural antidepressant properties . It's meant to put you in a brighter mood, ease tension, and ground your energy, so that you can maintain your busy lifestyle without sacrificing your inner peace.
Directions: Take 1-2 dropperfuls daily.– Just drop it under your tongue and swish it around. Some add the dropperfuls to their favorite beverages. Add Stress Releaf to your favorite tea or smoothie!! Adding Stress Releaf to Pain Releaf can additional support for helping manage pain that is exacerbated by stress. Our proven formula, Stress Releaf assist in winding down before bedtime.
Buplorem Root, White Peony Root, Mint herb, White Atractylodes Rhizome, Chinese Angelica Root, Poria, Salvia Root, Moutan Bark, Rehmannia, Chinese Motherwort, Tumeric Tuber, Gardenia Fruit, Licorice Root, Hemp Extract, Water, Ethanol, Acacia Vera, Honey
FAQ
How long can I take Hot Flash Releaf?
Will Hot Flash Releaf help with sleeping and daily energy?
Yes, Hot Flash Releaf can help with keeping you cooler while sleeping, providing you with a better nights sleep. A better nights sleep can help with daily energy and feeling more like yourself.
Can I mix Hot Flash Releaf in any beverage that I choose?
Hot Flash Releaf can be mixed into any beverage that you choose, just add a dropperful or the suggested amount. Hot Flash Releaf can also be placed under your tongue and swished around in your mouth, before swallowing.
Can Hot Flash Releaf be used with Stress Releaf?
Hot Flash Releaf pairs well with any of our other formulas, it's a natural with PeriMeno Releaf and Stress Releaf.